In order to improve teamwork ability, on October 26, 2011, Kavan staff went to Dongguan Zhangmutou Guanyinshan National Forest Park Scenic Area to participate in outdoor training. Outreach training is a set of value-added training process that shapes the vitality of the team and promotes the growth of the organization. It is a set of outdoor experiential training designed specifically to meet the needs of modern team building.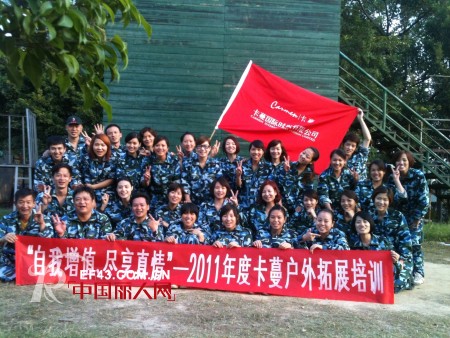 Before the training, through a series of cheerful activities, break the barriers between people, establish the basis of mutual trust and create a team atmosphere. According to the coach's guidance, all staff were divided into two groups (Liangjian team and Wolves team) participated in activities such as training of special training, ice training, common advance and retreat, climbing at high altitude, air suspension bridge and graduation wall. Among them, executive training has given us a strong sense of team success as the basis for personal success. Each member of our team must courageously challenge and encourage each other to overcome fear. Airborne Bridge taught us how to adjust to stress and difficulties. Self-mentality, the courage to try, challenge themselves, defeat themselves; and in the "graduation wall" smooth "graduation", all the partners are themselves, was deeply moved by the entire team, as proud of himself as a Karman ,pride!
"Feelings of paper on the final say shallow, must know this matter to practice." Through the training of the above projects, let us realize a lot of truth. A team wants to grow and develop, only close together as a whole, it can be invincible, all-encompassing.
The strengths of the two groups are the same, each with its own strengths and weaknesses, but not everybody is different, but in the process, what did you gain, what you perceived, and how your former working methods and behavior patterns brought about your own work? Of the obstacles, the distortion of the upload issued for the execution of what impact.
Through team training, we have strengthened our understanding and communication skills and enhanced the spirit of creating excellent teams. Colleagues in the practice of learning, experience in learning to change, benefit greatly, have more life perception. After experiencing the joy of success brought by dedication, collaboration and courage, everyone deeply understands the essence of "responsibility, cooperation and self-confidence" and the responsibility they should assume as a member of the team. At this time, with intense work and pressure, they are close to nature, enjoying the truth and realizing self-enhancement. They have mobilized everyone's enthusiasm and enthusiasm and provided a solid foundation for the Company's humanistic construction and sustainable development.
Artificial Cherry Blossom Tree is made with artificial Cherry Blossom branches and natural wood stems and silk Cherry Blossom leaves, which comes in a pink white color, cherry blossom color, as well as in yellow.
We specialised in large indoor and outdoor Artificial Cherry Blossom Tree, to order in all sizes, style, shape and varieties to suit your specific needs and requirements.
Artificial Cherry Blossom Tree
Cherry Blossom Tree,Artificial Cherry Blossom Tree,Fully Color Artificial Tree 3D Model,Pink Artificial Tree
HEBEI LOVER ARTIFICIAL PLANTS CO.,LTD. , http://www.artifical-plant.com