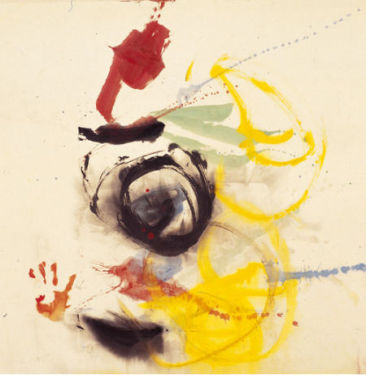 At the end of last month, the Guangdong Museum of Art held a very special personal art exhibition. The scale of the exhibition was not small: more than 100 colored ink paintings were exhibited, which were mainly freehand brushwork and abstraction. These paintings were praised by the famous sculptor Pan He and other famous celebrities. The artist who was the lead actor was only 2 and a half years old. Her name was Liao Wende and was born in November 2008. It is reported that this exhibition will make her become the world's youngest person to hold an exhibition. Yesterday afternoon, a reporter from Chengdu Business Daily interviewed Liao Wende's grandfather and the famous Guangdong writer Liao Hongqiu. He disclosed the story behind the "little art child prodigy".
The exhibition's specifications were highly praised by the famous sculptor of the gallery's 86-year-old Xiangzhong. The exhibition was held in Hall 12 of the Guangdong Museum of Art. The theme was named "Truth, Good, and Beautiful." The inscription was an 86-year-old sculptor named Pan He. Guangdong Education Press also published beautiful pictures for Xiao Wende. Many people think that they should apply for the Guinness Book of Records.
It is reported that at the exhibition site, Liao Wende was not alive at all. It was very lively: The door frame of the reception room on the first floor of the museum was ladder-shaped. She faced the lens of a TV reporter and she ran away without knowingly starting to climb the ladder. When it was about to climb to the roof, it was laughed and held by adults.
This nature is also reflected in her paintings. The pictures displayed at the scene are bright and colorful, and the strokes are free. Like a colorful dream of a child, two of them are still "created" by Liao Wende and Pan He. The old artist's love for this little girl. Pan He told reporters: "Looking at Wendt's paintings made me feel back to childhood."
Before the exhibition was held, Xiaowende had received a lot of media attention, even reporting on her on the full scale. Xiaowen's grandfather, Liao Hongqiu, told Chengdu Business Daily that his family and Xiao Wende's family had never actively contacted the exhibition. The Guangdong Museum of Art discovered Wende by media reports, and was eventually held by the director of the museum Luo Yiping. In this exhibition, "The curator Luo looked at her work and felt that the quality and quantity were enough to hold a solo exhibition."
Intergenerational genetic?
In the same month, Grandpa had a solo exhibition with his grandfather. So, when was the girl's extraordinary talent discovered? There is a background worthy of "reference" here – her grandfather Liao Hongqiu is not only a famous writer but also an outstanding painter. It was also just last month that Liao Hongqiu had just held his own Chinese painting exhibition "Paper of the Peace" at the National Art Museum of China and exhibited more than 70 ink bamboo maps. On the phone yesterday, Liao Hongqi smiled and told the Chengdu Daily News reporter: "My son did not entertain, so many relatives and friends joked that granddaughter inherited my painting interests from generation to generation, but I think her talent is better than mine. It's much higher." He told Chengdu Daily News that in fact, the granddaughter had already used crayon to paint on places such as letter paper and walls as early as 1 year old. "Her parents often like to take her with her. Go to the park, see the blue sky and white clouds, identify the colors of the flowers... so she feels very good about the colors."
The painting is not the seller "just want to leave a good memory for her"
From then on, Liao Wende started his own game-like "artistic road" with the support of his parents and grandparents. "We never asked her to paint, but she proposed to paint. Her family gave her any time. Preparing paper, pens, and pigments. She was happy that she could draw 35 or 5 pictures a day, sometimes she could not paint pictures for 3 or 5 days, and we all followed her. It was like playing." Liao Hongqiu said, "She is not the kind of hard work. "How old is the child, not that kind of consciousness, purely as a game."
In his favorite game, Little Wende freely shed her instincts and geniuses, and some moves made people feel astonished. "The process of painting is totally different from that of other children. It is not just painting. He often beats the brush with a brush on the paper. He has interrupted me five or six writing brushes," said Liao Hongqiu. As a professional, will Liao Hongqiu "guide" granddaughter to paint? He said that all Wendy's paintings were completed by herself from beginning to end. Liao Hongqiu also revealed to reporters that some people want to buy granddaughter's paintings, but her family does not sell them. "Our original intention was simply to keep these beautiful moments for the children as a commemoration. She will continue to paint or not, and we will not interfere." It is not deliberately cultivated to allow children to develop freely."
T / C fabric is polyester fabric and cotton yarn in the woven machine in accordance with certain rules interwoven fabric. Various products of T/C Fabric , this kind of fabrics are usually printed T/C fabric, dyeing T/C fabric, bleached white T/C fabric, Greige T/C Fabric and so on a series of products. These fabrics mainly used for Lining .pocketing . clothes. printing. garment. home textile, etc. T / C fabric not only highlights the characteristics of cotton and polyester fabric, in the dry and wet conditions are better elasticity and wear resistance, dimensional stability, shrinkage is small, with upright, easy wrinkle, easy to wash, quick-drying and other characteristics. Also, we can provide any kind of customer need to color!
T/C Fabric
T/C Printed Fabric,T/C Dyed Fabric,T/C Bleached White Fabric,T/C Greige Fabric
Baoji Dadi Textile Co.,Ltd , http://www.bjddtextile.com